Influencer
Bills Mailbag: What to make of Tre'Davious White still not playing
Welcome to Bills Mailbag after another fascinating week with the team. Let's get straight to your questions…
Josh M asks: Why do you think Tre'Davious White is still not playing? Does that have anything to do with condition? Are there any concerns that he could pick up another injury playing on Ford Field's turf?
The injury reports don't give an injury designation, so does that mean he's fully healed?
Jay: If he's not injured – and because he doesn't appear on the injury report, there's no reason to believe he's injured – then something else must be causing his continued absence. I asked Bill's coach Sean McDermott Monday if White's continued absence was physical or mental. He chose not to answer, leading to this mystery. It's possible the Bills have determined that White needs more practice time before he can get back on the field, but if that were the case they would probably have to put him on the injury report. By not doing so, he seems physically ready to play. Since he isn't, that would mean that the reason for his continued absence is mental. White will be inactive against Cleveland on Sunday, McDermott said, adding that White "is not ready to play."
As for the turf at Ford Field, I feel like this issue is being exaggerated by some fans. It's not like the Lions lose multiple players to injuries every week on this turf. It might be a bit of a concern, but it doesn't seem like that's reason enough to keep White out of the game when he's ready to play.
"It's a cool experience to see the smiles and looks on the faces of guys who have never been anywhere near snow, whether it's from the West Coast or the South," said McDermott. "And then there's the caution side of trying to navigate life and snow and conditions like that."
Joe Caso asks: I don't think Brandon Beane and Sean McDermott in particular have been criticized enough. Sure, after two terrible losses, that might seem petty. I don't want to take for granted the work they have done to turn this organization from a joke to a winner. I remember Kyle Orton, Vontae Davis, Trent Edwards, Dick Jauron and so on and so forth. But I cannot bear the public dismissal of anything to do with Tre White's health. Why isn't he playing? Just say it. This goes beyond jokes. When evaluating offensive linemen, does the team only look at pass blocking skills? If not, why can't they run the ball at all? Why is Nyheim Hines missing? And if it's not the offensive line, why haven't they prioritized running back as an important position? McDermott went from having a guy punts on the other team's side to every fourth down like Sunday when they should have taken the three points before the first interception. I know there's half a season left, but I can see Josh Allen as a more athletic 21st-century Philip Rivers – great numbers from the regular season, will win some games alone but never win everything due to the inconsistency around him.
Jay: I'm glad you got rid of all that, Joe. Serious. I can respect your passion and frustration. I think I would say let's give the team some time to get out of this current rut. Remember they went through an even longer phase like this last year, losing four out of six and ending the season with one of their best football games. I'm not ready to pull the plug on the season after a tough couple of weeks. All the goals of this team are still ahead of her. This is not to downplay what has happened in the last few weeks. There are corrections that need to be made on both sides of the ball.
Jim asks: Who is responsible for all sales in the red zone? Is it the theater caller or the person running the games?
Jay: Ultimate responsibility rests with the quarterback. Josh Allen needs to take better care of football. Offensive coordinator Ken Dorsey would tell you that he needs to put Allen in position to be successful — and that's true — but it's the quarterback who has the ultimate decision on where the ball goes. Allen just gets it into high-risk areas way too often, and it's costing his team a lot of money.
Jim Majors asks: Chicken Little, here. The sky seems to fall! Josh Allen has morphed back into a careless ball-handling, poor-decision-making turnover machine. Offensive coordinator Ken Dorsey's play call lacks creativity, so opposing defensive coordinators seem to know the Bills' playbook better than most guys on the practice team. It seems, from my corner of the chicken coop, that Allen bears some of the blame, though he might be trying to do too much. There is no game in progress except Allen, who remains the team's lead rusher. What's your analysis?
Jay: I would agree that Allen is trying to do too much. He would also agree. Here's what he said on Wednesday: "Making decisions is number 1 in my opinion. Trusting the game plan, trusting the guys around me, not trying to do too much and playing smarter football again. At the beginning of the year we played really smart football. And it's not this huge makeover that will transform the team. It's something very simple that I can do to help this team. That's something I intend to do. Again, it's not hard to try to tweak that mindset, trust the other guys around me, take the check when it's there, and just make the smart play again. Allen hits the spot with all of this. It's up to him to make the necessary corrections starting this week.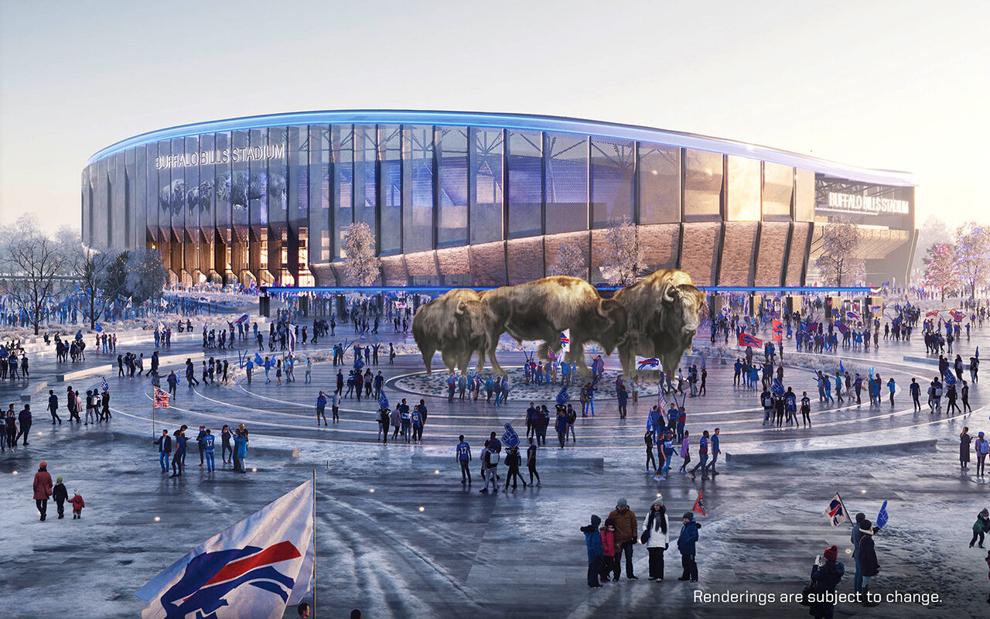 In case you were wondering, no, moving this weekend's game to Detroit doesn't have Bills officials clamoring for a domed stadium.
Jeff from Fairport asks: With another game being postponed due to the weather, has your opinion on a dome for the proposed new stadium changed? How much more would it cost to convert the design into a dome?
Jay: My opinion hasn't changed…because I've always been in favor of a dome. Of course, my opinion hardly matters in this debate. The estimated additional cost of a dome is $1 billion and there is no momentum to add that to the project. Ron Raccuia, the Bills' executive vice president, said so on Thursday. "This game will be postponed but it won't be postponed because we don't have a dome. It is postponed for the safety of our community. The roads, the electricity, everything else that happens. We need to play this football game but it's not right for our community and for everyone who's going to be hit with a lot of snow damage over the next few days. So the dome has nothing to do with it. I have seen some of these reports. From my point of view it is kind of irresponsible and will not change what we are already planning to do."
That's about as solid an answer as you might hope to get.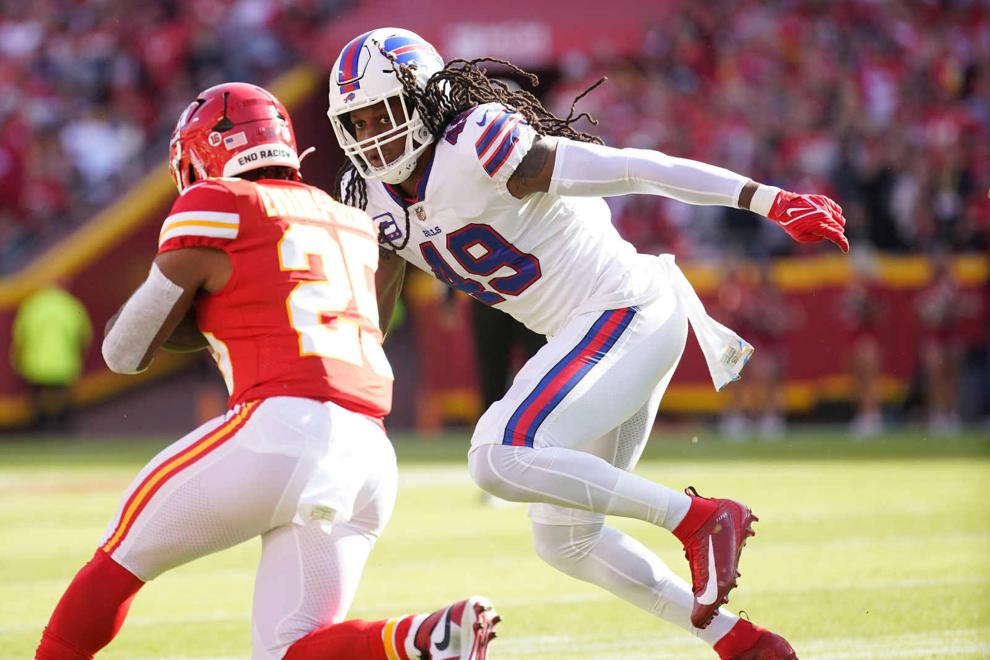 Buffalo Bills linebacker Tremaine Edmunds, defensive end Greg Rousseau and cornerback Tre'Davious White will not play the Cleveland Browns in Detroit on Sunday.
Al asks: I already mentioned how many injuries the Bills have. I can't remember a last year with so many soft tissue injuries. Do these injuries the strength and conditioning coaches and/or physical therapists not have the players ready for? Or a smart move to see what quality we have…