Influencer
10 Routes That Are Perfect For Any California Road Trip
Road trips remain one of the most popular vacation types for travelers in the United States. With so many famous routes, the USA is the perfect place to plan a road trip adventure. Historic routes, scenic back roads and busy highways all offer unique access to some of the country's most interesting natural and man-made wonders that will be on any road trip traveler's bucket list.
California is a truly unique state with a huge variety of natural mountain wonders, thriving metropolises and cool coastal cities. Those looking to get the most out of a trip to California can take advantage of one of the many scenic routes located throughout the state. From 30-mile afternoon drives to week-long excursions, a California road trip is an unforgettable experience.
Related: California Destinations: Try These Scenic Road Trips Across the States (Complete with Itineraries)
10
Pacific Coast Highway: Highway 1 Road Trip
Bixby Bridge along the Pacific Coast Highway
The Pacific Coast Highway is perhaps California's most popular road trip, and with good reason. Highway 1, better known as the Pacific Coast Highway, winds its way along the California coast from San Francisco to San Diego, passing through the major cities of San Luis Obispo, Santa Barbara and Los Angeles.
In between exploring the big city, road trip travelers can enjoy some of California's best beaches as they journey through Big Sur, Morro Bay State Park and Carmel-by-the-Sea.
The Pacific Coast Highway is one of the best road trips in California, especially for those who want to see a wide variety of California highlights. It is a week-long adventure that is always worthwhile.
Distance:
656 miles

Highlights:
San Francisco, San Luis Obispo, Santa Barbara, Los Angeles, Big Sur, Carmel-by-the-Sea, Morro Bay, Hearst Castle, Monterey
There is an entrance fee of $8 per vehicle to travel the Pacific Coast Highway.
Related: As far as solo road trips go, California's Highway 1 is one of the best
9
Southern Desert: Road trip to Joshua Tree and Death Valley
Joshua Tree National Park at sunset
California is an exceptionally unique country because of its size and variety of landscapes. For those looking to explore the national parks and desert landscapes of Southern California, a road trip through Joshua Tree and Death Valley National Parks is a perfect option.
This road trip begins in Palm Springs before heading to Joshua Tree National Park, which alone is worth several days of exploration. From Joshua Tree, road trippers can head through the Mohave Reservation to Death Valley National Park before returning to Palm Springs or Los Angeles with Instagram-worthy desert pics in hand.
Distance:
450 miles

Highlights:
San Diego, Anza-Borrego Desert State Park, Joshua Tree National Park, Death Valley National Park
Cell phone coverage is notoriously patchy in the Southern California desert. Bring a physical map for the best chance of success on this road trip, especially for trips between Joshua Tree and Death Valley.
8th
Volcanoes and Geysers: Road Trip from Redding to Lassen National Park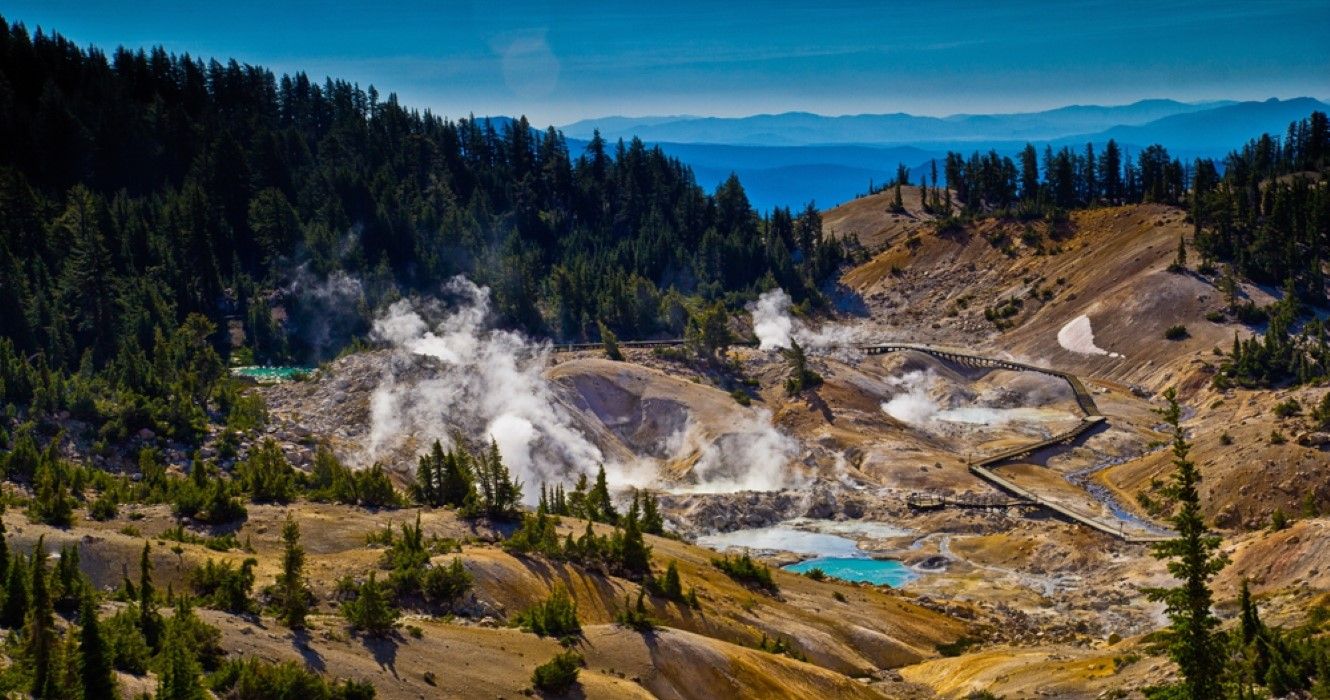 Bumpass Hell Boardwalk in Lassen Volcanic National Park, California
As California's least-visited national park, a road trip to Lassen National Park is not only a scenic drive, but also an opportunity to explore one of California's hidden natural wonders.
The road trip map starts in Redding, another hidden gem of California and a town worth visiting. It follows I-5 to Lake Shasta, where travelers can enjoy swimming and water sports, as well as taking in views of the awe-inspiring Mount Shasta.
Turning onto Highway 89, the route passes through part of the Volcanic Legacy Byway before terminating in Lassen National Park itself.
Distance:
188 miles

Highlights:
Redding, Lake Shasta, Mount Shasta, Lassen National Park, Castle Crags State Park, Burney Falls
7
Wine Country: Napa's Silverado Trail Road Trip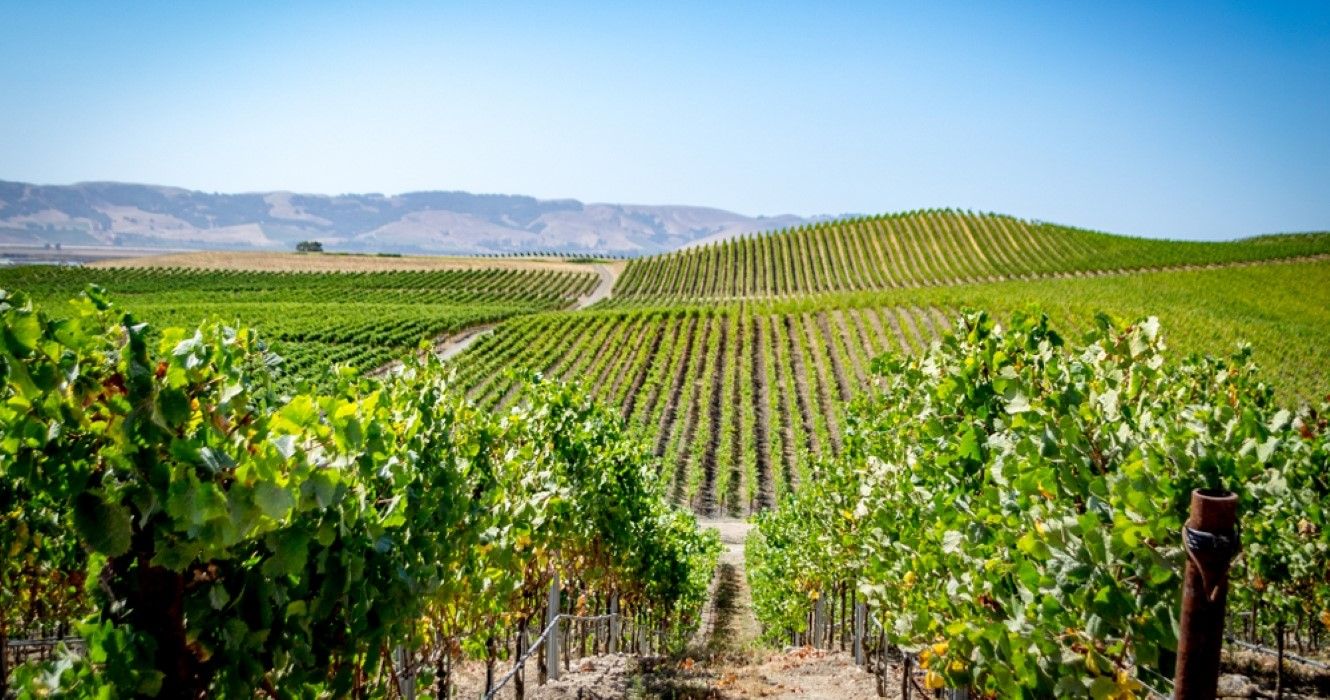 Vineyard in Napa Valley, California
Away from the beaches and mountains of California's borders, Napa Valley offers a beautiful adventure through the state's wine country. The Silverado Trail was built in 1852 to connect Napa and Calistoga and still offers a scenic drive through the countryside today.
The route begins in Napa and travels through some of California's finest wineries, including Reynolds Family Winery, the Stags Leap District and Mumm Napa. The road's short distance leaves plenty of time to really explore each stop on this road trip through California's wine country.
Distance:
29 miles

Highlights:
Napa, Reynolds Family Winery, Stags Leap District, Mumm Napa, Calistoga
6
Natural Wonders: Road Trip from Lake Tahoe to Lone Pine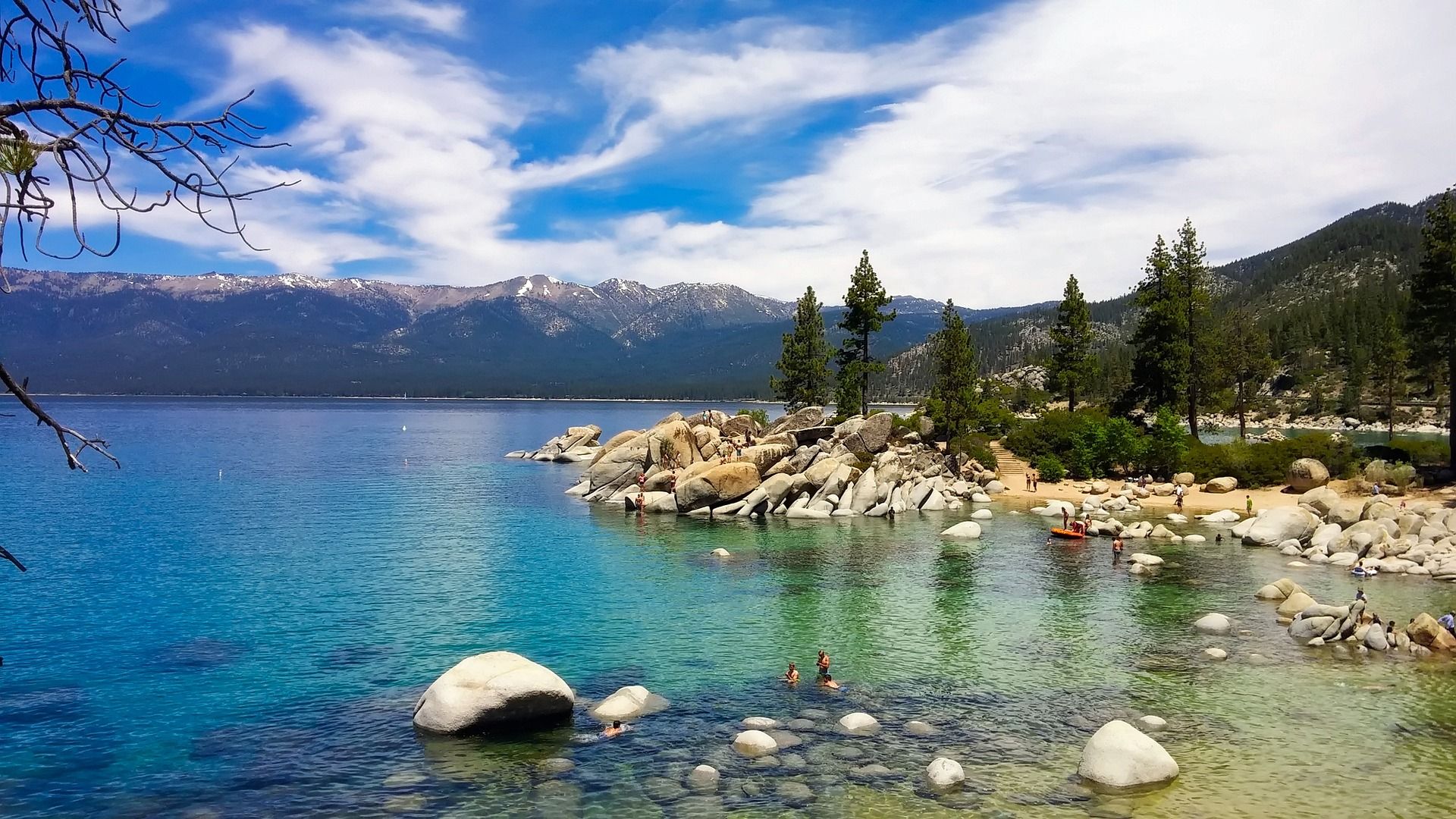 People paddling on the shore of Lake Tahoe in California, USA
For those who want to see California's top natural attractions in one visit, a road trip from Lake Tahoe to Lone Pine is a must. From South Lake Tahoe, one of the most popular tourist spots around the border lake, visitors can immediately enjoy the natural beauty of one of America's clearest lakes.
From there, travelers follow Highway 395 to Mono Lake Tufa State Natural Reserve and Mammoth Lakes, which offer hiking, mountain biking, skiing, and snowboarding depending on the season.
Those staying on Route 395 will end their road trip in Lone Pine, while those looking to extend their adventure can take a detour via Highway 120, which also connects to the Tioga Pass road trip.
Distance:
234 miles

Highlights:
South Lake Tahoe, Emerald Bay State Park, Mono Lake Tufa State Natural Reserve, Mammoth Lakes, Bishop, Lone Pine, Mobius Arch
Related: 10 Amazing Facts About Lake Tahoe You Probably Didn't Know
5
Land of the Giants: Road trip through the giant sequoias
General Sherman Tree in Sequoia National Park
While all road trips are a great way to see multiple sights in one vacation, the best routes offer plenty of fun between stops too. For those traveling between the national parks that protect California's giant sequoias, the drive itself is as scenic as the surrounding hiking trails.
The Giant Redwoods road trip begins and ends in San Francisco and explores both the towering coast redwoods and the towering inland giant sequoias. The road trip leads from San Francisco to Arnold before heading to the famous Yosemite National Park.
From Yosemite, travelers can enjoy a ride at Shaver Lake and begin exploring Kings Canyon and Sequoia National Parks before returning to San Francisco.
Distance:
888 miles

Highlights:
San Francisco, Arnold, Calaveras Big Trees State Park, Yosemite National Park, Shaver Lake, Kings Canyon National Park, Sequoia National Park, General Sherman Tree
Related: Drive through the redwoods on this narrow old stagecoach road in Northern California
4
Beach Towns: Orange County Road Trip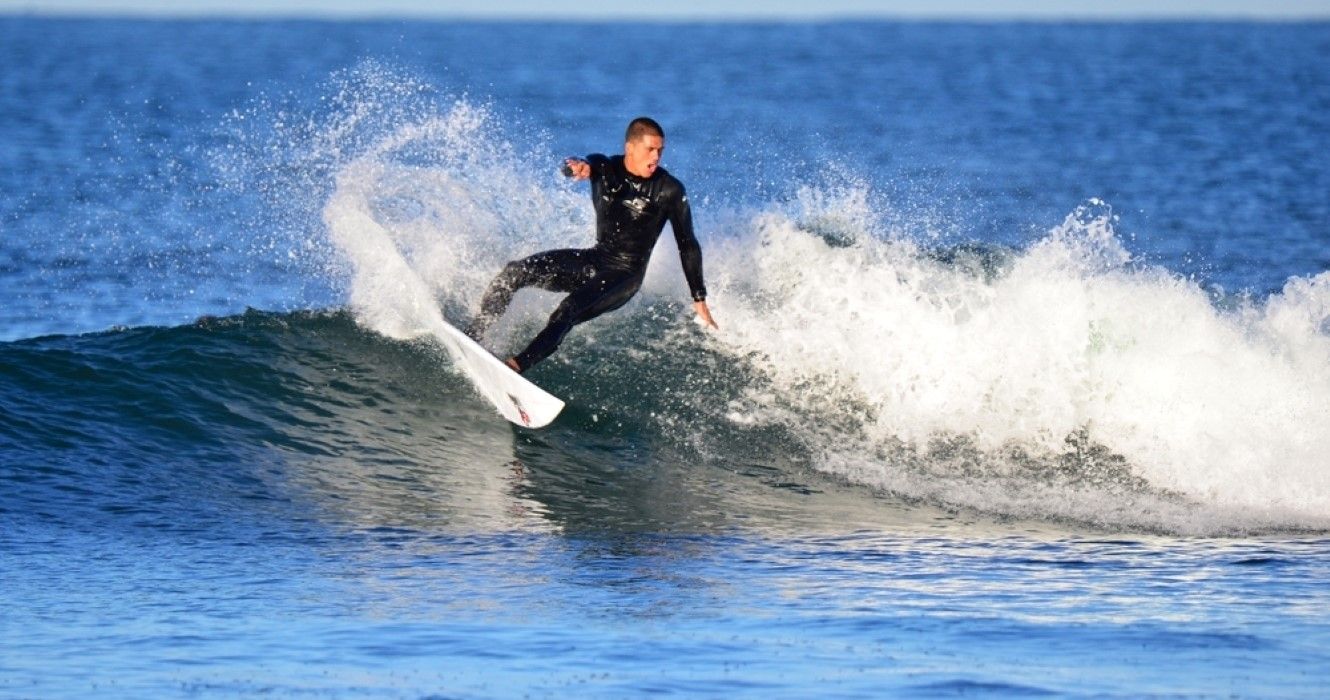 Surfing the Oakley Lowers Pro in San Clemente, California
One of the most popular activities on California's beaches is surfing, and Orange County boasts some of the best surf spots in the state. This road trip follows Highway 1 and begins in the coastal town of Dana Point, which not only offers great surfing spots, but also great whale-watching spots in the right season.
The beachfront view continues north to Laguna Beach and Crystal Cove State Park before reaching Newport Beach with its yacht-filled harbors. The grand finale is Huntington Beach, also known as Surf City USA, where road trip travelers can ride the waves themselves or just enjoy the coastal views at the end of this surf-centric road trip through California.
Distance:
30 miles

Highlights:
Dana Point, Laguna Beach, Crystal Cove State Park, Newport Beach, Huntington Beach
Related Topics: From Beach to Bay: Discover America's 10 Best Ocean Getaways
3
Sierra Nevadas: Road Trip to Tioga Pass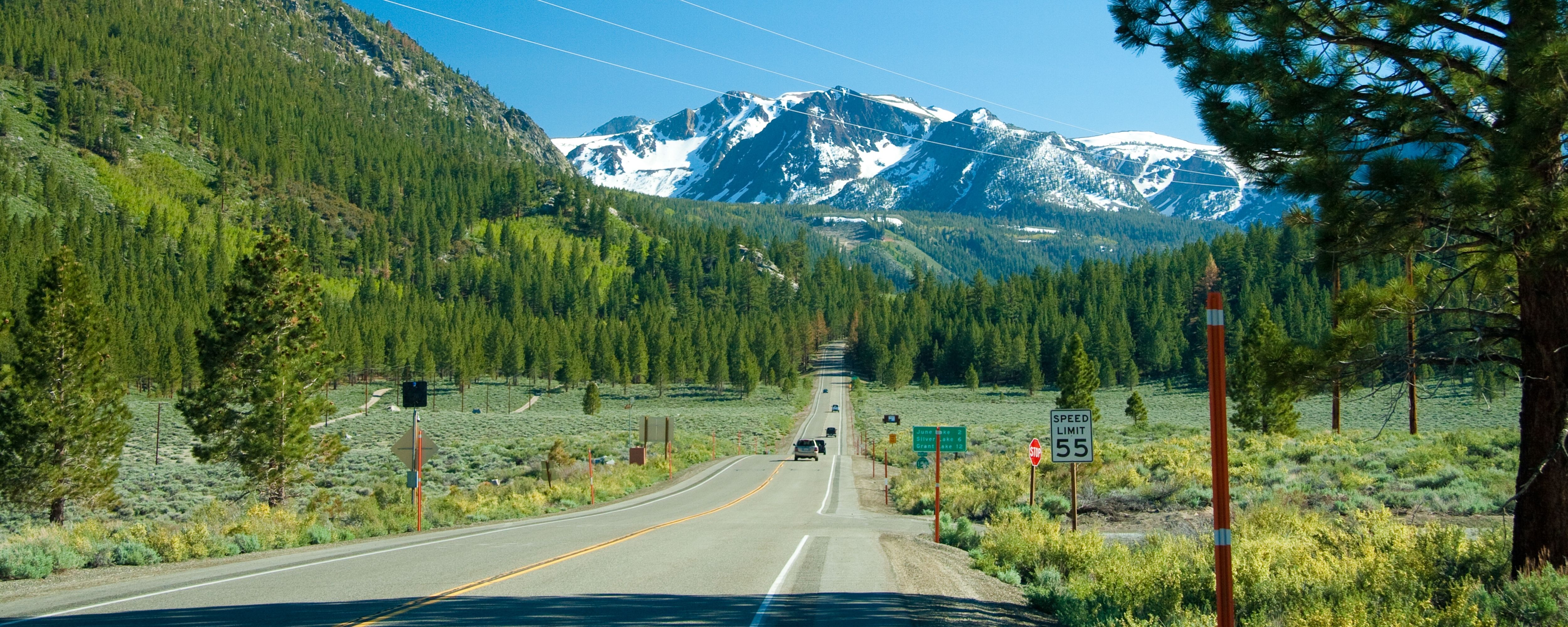 View of the June Lake Loop, near Yosemite Tioga Pass
For one of the most scenic drives through the Sierra Nevada Mountains, Tioga Pass, also known as California State Route 120, is a unique mountain road.
The route itself is just over 60 miles long and takes just a couple of hours, giving travelers plenty of time to park their vehicle and explore the waterfalls, hiking trails, and giant sequoias found along the way.
Tioga Pass ends on the east side of Yosemite National Park, offering even more opportunities to explore California's natural wonders.
Distance:
64 miles

Highlights:
Tuolumne Grove, White Rocks at Olmsted Point, Tenaya Lake, Tuolumne Meadows, Mono Lake, Yosemite National Park
The Tioga Pass is only open from late May or June through mid-November. Check ahead of time that the road is clear and open before planning a road trip to Tioga.
2
Classic Route: Road trip along Route 66 through California
A stretch of road along Route 66, one of the most famous road trips in the United States
Perhaps America's most classic road trip, Route 66 crosses eight states and covers nearly 2,500 miles. Those wishing to stay within California's borders can still enjoy a 300-mile stretch of this legendary route.
Route 66 begins at the California-Arizona border and Needles City and runs all the way to Santa Monica and the California coast. Along the way, travelers will pass ghost towns, unique desert landscapes, the major cities of Barstow, Los Angeles and Pasadena, and unique Route 66 locations such as the birthplace of McDonald's.
Distance:
315 miles

Highlights:
Needles City, Goffs Ghost Town, Essex Ghost Town, Amboy Crater, Daggett, Calico…